Namibia offers the visitor a range of remarkable experiences in a variety of astonishing environments – exciting hunts, big trophies, challenging stalks, breathtaking sunrises and sunsets, fierce thunderstorms, boiling-hot days and freezing-cold nights, flat savannahs, rocky mountains, gigantic dunes, majestic rivers…
The country gained independence from South Africa on 21 March 1990. President Hage Geingob leads a multiparty parliament with a democratic constitution. The country's main economic sectors are mining, fishing, tourism (including hunting) and agriculture.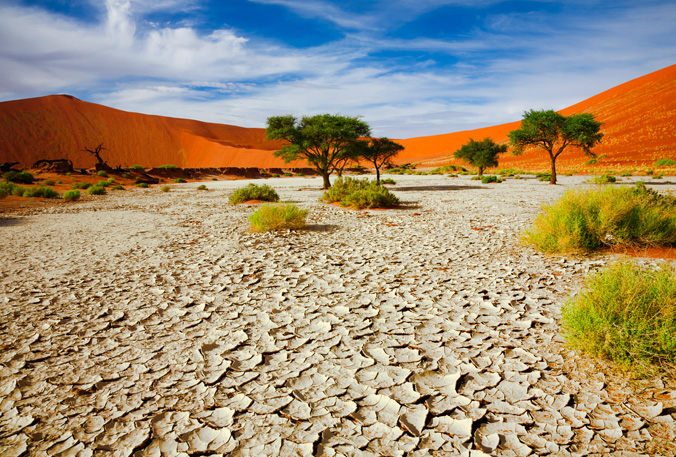 With a surface area of about 825 000 square kilometres, much of which is under desert, and about 2.1 million people, Namibia is one of the least populated countries in the world. This translates into some of the most magnificent wildlife habitats and wilderness areas on Earth, from the world's largest shifting sand dunes in the southern Namib to riverine forest and swampland in the Caprivi in the northeast.
Namibia has 14 vegetation zones supporting some of the richest wildlife in the world. Big game includes elephant (including, in the Kaokoveld, the world's last surviving population of desert elephants), lion, rhino, buffalo, cheetah, leopard and giraffe. There are 20 antelope species, 240 mammal species (14 endemic), 250 reptile species, 50 frog species and 676 bird species.
Namibia's official language is English
Namibia has two international airports: Hosea Kutako and Eros, both in Windhoek. It has 46 additional airports and airstrips scattered throughout the country
There are two privately run hospitals in Windhoek with intensive care units. Medical practitioners and services are available in outlying towns
All goods and services include 15% VAT, which may be reclaimed by visitors
Namibia has over 45 000 km of good-quality roads, although many aren't tarred due to the very low volume of traffic
Enquire Now
Omujeve Hunting Safaris
Four unique locations that span the length and breadth of Namibia
Enquire Now